This past weekend we stopped to do some shopping at the local farmer's market and guess what they had?!
Strawberries!!!!
Yep, here in Florida it's Strawberry Season! Sorry, Northerners, but early crops one of the few luxury's we have here before it gets sooo hot. Don't worry, when all you guys are going on and on about your fab gardens, I'm reminded that things don't grow so well in sand and that even palm trees look dead in 95F, full sun with 1000% humidity. Which of course, meant that I had to get a half flat while they lasted.
Because, of course, there are so many things you can do with strawberries - like Strawberry Ice Cream!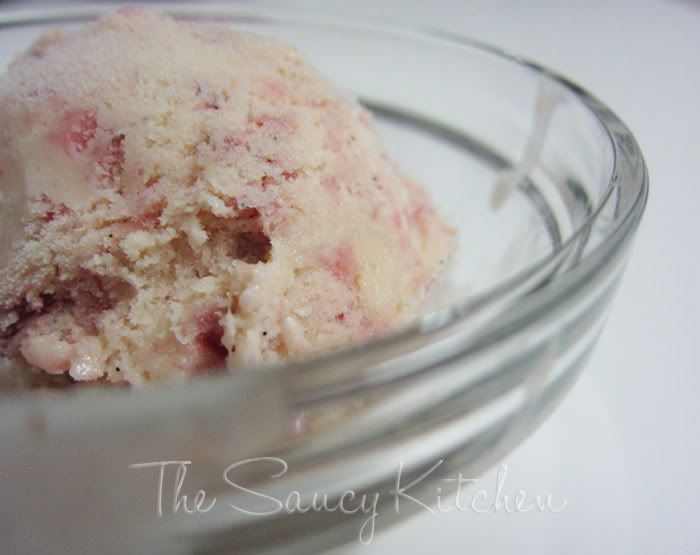 I never actually was that fond of this flavor as a kid. God forbid someone got Neapolitan - I would have to meticulously scrape the sides so I could get all the chocolate, or eat the vanilla with a drizzle of chocolate sauce. But that pink stuff in the middle. No way.
As luck would have it, my taste buds did a turn around and gosh darn it, strawberry is a pretty good flavor. Probably one of my favorites now, so I was very excited to give this a shot.
I used the basic Ice Cream recipe that I used back when I made the vanilla ice cream, but with a few tweaks.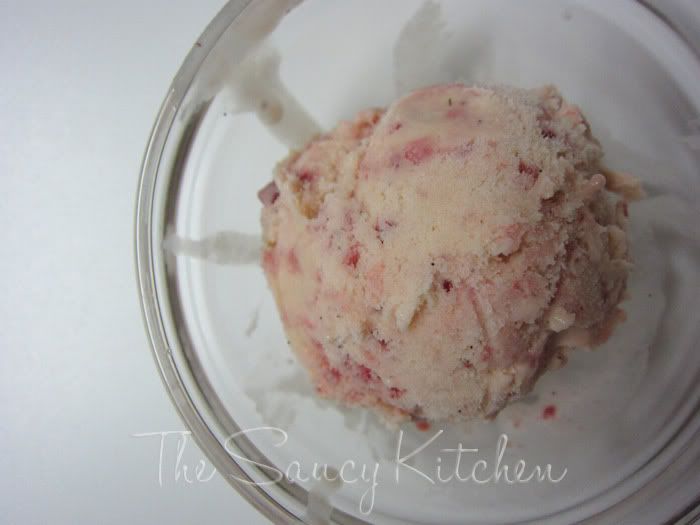 Strawberry Ice Cream (with Almond Milk)

Ingredients
2 1/2 c almond milk (I prefer the Original to the Vanilla for this recipe since it has less sugar)
1 1/2 c heavy cream
8 large egg yolks
9 ounces sugar
1 vanilla bean, split lengthwise
1 recipe strawberry puree*

Freeze the ice cream mixing bowl (at least 24 hours prior).

Bring the almond milk, cream and vanilla bean to just a simmer in a saucepan over medium heat. Remove from heat as soon as it begins to simmer.
In a mixing bowl (or mixer), whisk the egg yolks until they lighten in color. Gradually add the sugar and continue to whisk until it is combined. The consistency should be thick enough so that the mixture forms a ribbon when you lift the whisk out of the bowl.

Once the eggs and sugar are combined, add in the cream/milk mixture slowly, tempering the eggs so as not to cook them. Continue to add the milk mixture to the eggs, stirring to combine as you go. Once all the milk has been added return the entire mixture to the saucepan and reheat over medium low heat until 170-175 F. This is a necessary step to ensure that the eggs are cooked (and salmonella is killed) before being made into ice cream. Continue to cook until the mixture coats the back of a spoon.

Cool the mixture until it is room temperature and then let cool overnight, covered, in the refrigerator.

Remove the vanilla bean from the custard mixture.
Pour the mixture into the the ice cream mixing bowl and turn on the mixer (or ice cream machine). Churn for 15 to 20 minutes.
At the 15 to 20 minute mark, when the ice cream has frozen and begins to look like, well, ice cream (soft serve, really), add in the strawberry puree. This should mix throughout and continue to churn, allowing the strawberry mix to be incorporated and the ice cream to become about double it's original size.
*Strawberry Puree

Ingredients:
2 pints strawberries
6 tbsp sugar
juice of 1 lemon.

Place the ingredients in a food processor and pulse. I left some chunks in mine so that I would have some in the ice cream. For a smoother ice cream, puree completely. Adjust the sugar and acid to taste, keeping in mind that the ice cream base is rather sweet.
For how-to photos and more instructions, go to my
original Almond Milk Ice Cream post
.
**Stay tuned next week - I have a treat in store for you!**